We are determined to stand up for equality and help to promote Steak & Knobber Day until every red-blooded man, woman, and legally aged appropriate person has accepted this holiday for what it stands for: Truth, Justice, and the American Way! Don't discount the validity of Steak and Knobber Day just because it hasn't been around for centuries. All truly great things happen over time, and our time is now!
How can you be a part of history in the making? Just follow these simple steps, and you too can be a part of a growing nation of happy, satisfied individuals that are just looking for a little compassion, a nice steak, and a brief oral acknowledgment for being a great companion. We know that change is difficult (isn't that right President Obama) and therefore we have made this as simple as possible. The whole message is right there in the title!
Steak & Knobber Day is celebrated on March 20th each year, following the much more popular Valentine's Day Celebration. Some experts claim that Valentine's Day originated from St. Valentine, a Roman who was martyred for refusing to give up Christianity. He died on February 14, 269 A.D., the same day that had been devoted to love lotteries. I doubt that I could come up with an ancient Roman named Steak Knobber, of which I could devise a creative story that would lead nations to celebrate with meat and oral pleasure so I will just pick up the torch where I found it and keep on running.
If you got something sweet on Valentine's Day this year, please take a moment to remember how thoughtful your guy was. He didn't question the logic, rationality, or even the cost of fulfilling his obligation to you. He did it with a smile and under the premise of True Love. Now think about returning this generous gesture on his part with a little something of your own. We will give you a reminder next February 14 when Valentine's Day rolls around again. When you notice all the red hearts and jewelry ads popping up promoting  February 14 just take a moment to mark your calendar with a little red heart of your own on March 20. Put a big S&K Day in the center of that red heart, and make his day something special.
With the holidays quickly approaching, it is the perfect time to get your S&K Day merchandise! Get her an "I Love My Husband" T-Shirt or the adorable "Steak & Knobber Day" Classic Thong directly from this link.

We wanted you to know that we have been listening to your comments. After receiving hundreds of requests for us to create some t-shirts and novelty items to help promote Steak and Knobber Day, we have finally created the first batch and MANY MORE designs are on the way.
One of the main concerns we had was to create designs that everyone would feel comfortable wearing without offending anyone (well most people). All our designs are fun and playful, and we created some to cater to just men, just women and some that can be worn by either sex.
Below is a list of designs we have so far with direct links to see what they look like in our shop.
Although we are promoting March 20 as Steak & Knobber Day, we don't want you to think that our items should be limited to use in March.  Send her a shirt for Valentine's Day, as a friendly little reminder. Got a birthday in August, or can't think of the perfect stocking stuffer? Our shirts make great gifts all year round. You may want to check with your human resources department before bringing a Steak & Knobber Day coffee mug to work with you, but we appreciate you getting the word out!
Steak & Knobber Day. It's more than just a holiday because it brings people together.

No other holiday is as self-explanatory, since we are men and we like things as simple as possible. Here is the basic breakdown for you:

1.    Choose the steak and fire up the grill. If this is a budding relationship, any steak will do. If your intentions with this man are honorable, you should find out his favorite cut of meat and prepare it to his liking. Side dishes should consist of a baked potato, mashed potatoes, or steak fries.
2.    The Knobber is the side dish. You could also prepare a nice salad or hot vegetable to accompany the meal, but it really isn't necessary. He is a guy, he knows what the holiday is all about, and vegetables are like gourmet foreplay. He just wants to get to the main course as quickly as possible.
3.    After he is done, leave him alone. Not after the steak, but after the Knobber. It isn't that we don't want to cuddle; we just need a few minutes to gather our thoughts. If you do a good job on the Knobber, you can look forward to a special thing we like to call "Round Two."  Realize that sometimes round two can be like sudden-death over time. When the first player scores the game is over. It also should be understood that any form of Round Two is clearly a bonus, or reward for a job well done, and should never be expected on Steak & Knobber Day.  Otherwise, it would be called Steak, Knobber, and Throwing Her A Shot Day.
Something to think about: The expression "you get what you give" has a great meaning here. He set the bar with Valentine's Day. If he set the bar very low, by getting you a card and chocolates, then it won't be too difficult to one-up him. If you got jewelry, dinner for two at Morton's, and a massage, then you have your work cut out for you. Remember, He still has your Birthday and the Holiday Season to get you more gifts. Raise that bar now!
For tips on cooking the perfect steak, check this link. For tips on giving the perfect knobber, check this link. He will be glad you did. For more tips on a successful Steak & Knobber Day, subscribe to the Knobber News.

I know what you are thinking. Why do we need another holiday? We already celebrate Mother's Day, Father's Day, and the biggest of all events to show that someone special how much you love them: Valentine's Day. Most of these are occasions when we guys wind up shelling out our hard earned money on flowers, chocolate, gifts and jewelry.
What about us? I believe that the true joy of giving does not necessarily include receiving something yourself. Of course I believe this, since I have been buying Valentine's goodies for a long time. We think to be fair; we should have our own holiday. One that celebrates the things we Men like the most: a huge chunk of meat, and a good old fashioned blow job.
Steak & Knobber Day was introduced in 1998 as a comedy bit by San Diego Morning Disc Jockeys from the Dave, Shelly & Chainsaw Show now on Jack FM 100.7. Having been devoted fans of their show, we decided to boldly go where their legal team would not allow them to go: To help establish March 20th as the official Steak & Knobber Day.
How can you participate? The easy part is in the name. Ladies, go get your man a steak; any steak will do, that isn't really the critical part of this celebration. Still, just like there are many varieties of flowers he can buy you for Valentine's Day, you would prefer a dozen long stemmed red roses as opposed to a handful of daisies. Fillet Mignon is the equivalent of Red Roses. New York and Rib Eye Steaks are the Tulips, while Top Sirloin is more like a Bouquet of Carnations.
If you don't feel secure enough with your cooking abilities, you can always take him out for a nice Steak dinner, and quickly return to finish the celebration first hand, so to speak. Remember Ladies, there is no such thing as a bad knobber. We appreciate them all equally, and just trying is a great gesture to show us how much you really care.
Support the cause by purchasing official Steak & Knobber Day Merchandise! There are T-Shirts, thongs, and more to help promote this well deserved day of celebration.
Spread the word to your friends and help your fellow man. We have heard of groups of friends that hold Steak & Knobber Day Parties (they only eat the steaks together as a group, I am told, but it is a start!) and some of our supporters really go out of their way to make this day special.
Sign up for the newsletter, which will include reminders of the impending holiday and links to purchase official Steak & Knobber Day Merchandise. Leave a comment, and upon approval (really, what could you post about this topic that we wouldn't approve?) we will share your tips on making S&K Day a suckcess with the world.
Although Steak & Knobber Day is only once a year, (sound familiar Married Guys?) your participation goes a long way towards global peace, ending world hunger, reversing global warming, and saving the whales. As Sam Elliott says in the ads, "Meat. It's what's for dinner" and we are also ready for dessert.

Happy Steak and Knobber Day all you guys and gals out there. I truly hope you celebrate today the way it is suppose to be celebrated!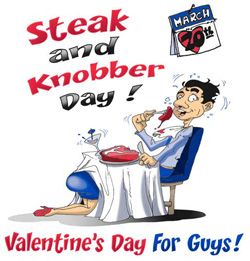 Today we have finally opened up the Official Steak and Knobber Day Website! From this point forward there will be no looking back. Our goal is to make March 20th an Official Holiday. Maybe it won't ever be recognized by the government as a national holiday (we have our fingers crossed though), but as long as we can get the people to celebrate it, we have accomplished our mission!
Unfortunately, we got started a little late working on website this year to be able to promote Steak and Knobber Day as well as we should. But that does gives us a whole year to make Steak and Knobber Day 2009 something incredible. To do this, we are going to need your help to promote the crap out of it. So please keep coming coming back in the upcoming months and we will give you a TON of ways to help promote this most deserving holiday!
To make sure you do not miss out on anything, please make sure and sign-up for our Newsletter!
We have LOTS OF PLANS for this site, so stay tuned. Please leave any comments or suggestions you might have for the site below. Also, what do you think of our first Steak and Knobber Day caricature above? Would you where that on a t-shirt?
Thanks and have an AWESOME Steak and Knobber Day!