Steak and Knobber Day Website – Official Opening
Happy Steak and Knobber Day all you guys and gals out there. I truly hope you celebrate today the way it is suppose to be celebrated!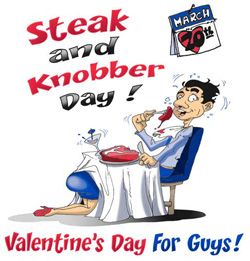 Today we have finally opened up the Official Steak and Knobber Day Website! From this point forward there will be no looking back. Our goal is to make March 20th an Official Holiday. Maybe it won't ever be recognized by the government as a national holiday (we have our fingers crossed though), but as long as we can get the people to celebrate it, we have accomplished our mission!
Unfortunately, we got started a little late working on website this year to be able to promote Steak and Knobber Day as well as we should. But that does gives us a whole year to make Steak and Knobber Day 2009 something incredible. To do this, we are going to need your help to promote the crap out of it. So please keep coming coming back in the upcoming months and we will give you a TON of ways to help promote this most deserving holiday!
To make sure you do not miss out on anything, please make sure and sign-up for our Newsletter!
We have LOTS OF PLANS for this site, so stay tuned. Please leave any comments or suggestions you might have for the site below. Also, what do you think of our first Steak and Knobber Day caricature above? Would you where that on a t-shirt?
Thanks and have an AWESOME Steak and Knobber Day!